Alumni Spotlight: Nathalie Quintero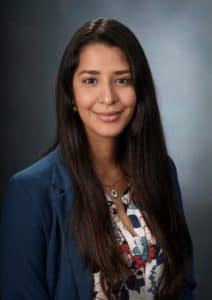 Nathalie Quintero graduated from Embry-Riddle Aeronautical University – Daytona Beach campus in 2015 with a degree in Aerospace Engineering. She currently works at Boeing as a Systems Engineer.
What has been your career path since graduating from Embry-Riddle?
Since graduating from Embry-Riddle, and after three summer internships with Boeing, I was hired full-time as a Systems Engineer with Boeing's Space Launch System (SLS) Launch Operations team at Kennedy Space Center (KSC). I have been with this team for the past 5 years, working on different stages of our rocket. Through this team, I've had the opportunity to work with technicians on the manufacturing floor at Michoud Assembly Facility (MAF), supported the Green Run Avionics test team as an Electrical Power Systems console operator, and serve as the team focal for the Integrated Test Checkouts. In addition, I also pursued my Master's degree in Systems Engineering from Cornell University, while working full-time, and keep myself involved with early-career, Boeing diversity groups, and community outreach. I recently started my own personal project called "STEM for Aerospace", which seeks to inspire and motivate the youth about the Aerospace field.
What three traits or skills have made you the most successful in your career?
The three skills that have made me most successful have been the ability to adapt to challenging projects, a positive attitude to get the job done, and the willingness to learn new skills or experience new opportunities.
What have been some of your favorite projects to work on throughout your career?
My favorite project so far is the one I am currently working on, which is the Space Launch System (SLS) rocket, the world's most powerful rocket. This rocket will be taking the first woman and the next man to the Moon, and I can't wait to be part of the team that will be making space history and advancing humanity to deep space exploration.
If you could go back to your college days, what would you do differently? Why?
If I could go back to my college days, I would manage my time better to balance my studies and campus involvement, because it is always good to fit time in your daily schedule for rest.
What advice do you have for graduating students to be successful in the job search?
My advice for graduating students would be to create a good network of professionals, through student projects, professional conferences or mentors, that you can lean on as you endeavor into the job search. Many of the people you meet in the Aerospace industry you will encounter again, and having a good network can provide opportunities in the future. In addition, I recommend attending professional conferences (in-person or virtual), such as SWE, SHPE, NSBE and ERAU's Industry/Career Expo, where companies go out to recruit engineering students for job opportunities, and you can establish a one-on-one conversation with recruiters from various companies.