Alumni Spotlight: Justin Ellixson-Andrews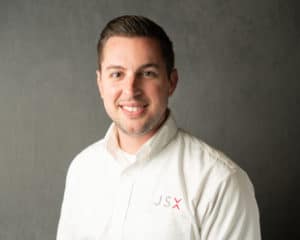 As the Manager of Talent Acquisition, Justin Ellixson-Andrews leads JSX's recruitment efforts, focusing on developing industry-leading practices, strategic partnerships, and empowering his team with the tools & support needed to drive rapid growth. A self-proclaimed "avgeek" and FAA Private Pilot, Justin has held various positions throughout the aviation industry, both administrative, as well as inflight. Justin is a graduate of Embry-Riddle Aeronautical University, where he earned a B.S. in Aeronautics, an M.S. in Leadership.
Discuss your career path since graduating from ERAU.
I entered ERAU-DB as an Aeronautical Science major (though later switched to Aeronautics with an intent on becoming an ATC after earning my private certificate), and worked at a local flight school in their admissions department while attending classes. I knew from a young age I wanted to be around planes, and was always a "natural" at meeting new people, so admissions seemed like a good, temporary fit at the time. I remained at the flight school throughout my time at ERAU, and upon graduation moved into a more senior admissions role. While exhibiting at the Women in Aviation annual conference, I was introduced to a regional airline's Talent Acquisition Team. I jokingly asked if they had a spot for me on their team – 6 months later I had a job offer! Coincidentally, the exact same day I was to start at the airline as a pilot recruiter, I received word back from the FAA that my application was being moved forward for a center position. Given what I knew and assumed about both roles, I wasn't yet ready to move out of recruiting. I now lead the Talent Acquisition & Development Team for a start-up air carrier and couldn't be happier!
What is the advantage of having an Aeronautical Science degree and working in recruiting at JSX?
Definitely knowing the language has been incredibly helpful. Recruiting is about building relationships, and finding common ground. While I haven't (yet) been a commercial pilot, I am able to apply my AS knowledge and experiences from ERAU, and build a recruiting & engagement strategy centered around those with like minded interests and priorities.
What has been your greatest professional achievement so far in your career?
Without a doubt being part of the team at JSX. Not often does one have an opportunity to build an airline and shape the future of an organization. In ~3 short years, my team has helped grow JSX by nearly 300%! Thanks to the support of a very generous and entrepreneurial Leadership Team, we have been able to build from the ground up hiring processes, outreach programs, employee resource groups, engagement initiatives, and so much more. When 2020 put a sudden halt on hiring, we pivoted from an external strategy to looking internally; building processes and development programs to help grow our existing Crewmember's skills, and enable them to move within the organization to new roles & departments.
As a recruiter, what piece of advice do you have for students looking for positions right now?
Don't be afraid to ask for the job you want. I received my first job at an airline because I asked for it. You will get 100% of what you do not ask for. You may be surprised to hear your dream job is coming down the pipeline. Aviation is a very small, very tight-knit community. Build relationships, meet new people, and establish a brand for yourself.