For the last decade, Embry-Riddle Professor and Interim Daytona Beach Chancellor Dr. Tim Brady has taught the campus community the art of stained glass making every Thursday afternoon. And while students won't find this class listed in the course catalog, it's an offering that is open to all students, faculty and staff.
Brady took an interest in creating stained glass art after his wife suggested he take a class at the community college she worked at in the late '80s. His hobby has become a life-long passion that he enjoys sharing with others.
"I started one class and it just never ended," said Brady, who often makes stained class paperweights and panels for colleagues who depart or are commemorating life-changing events. "People get hooked."
Dr. Alan Stolzer, the Dean of the College of Aviation, helps teach the class after having learned the art from Brady 25 years ago.
"I like the beauty of the glass," Stolzer said. "No matter how I think the glass is going to look when I buy it, it always looks different when you turn it into something and display it. The glass is so dynamic and it's the gratification of doing something that takes a bit of time."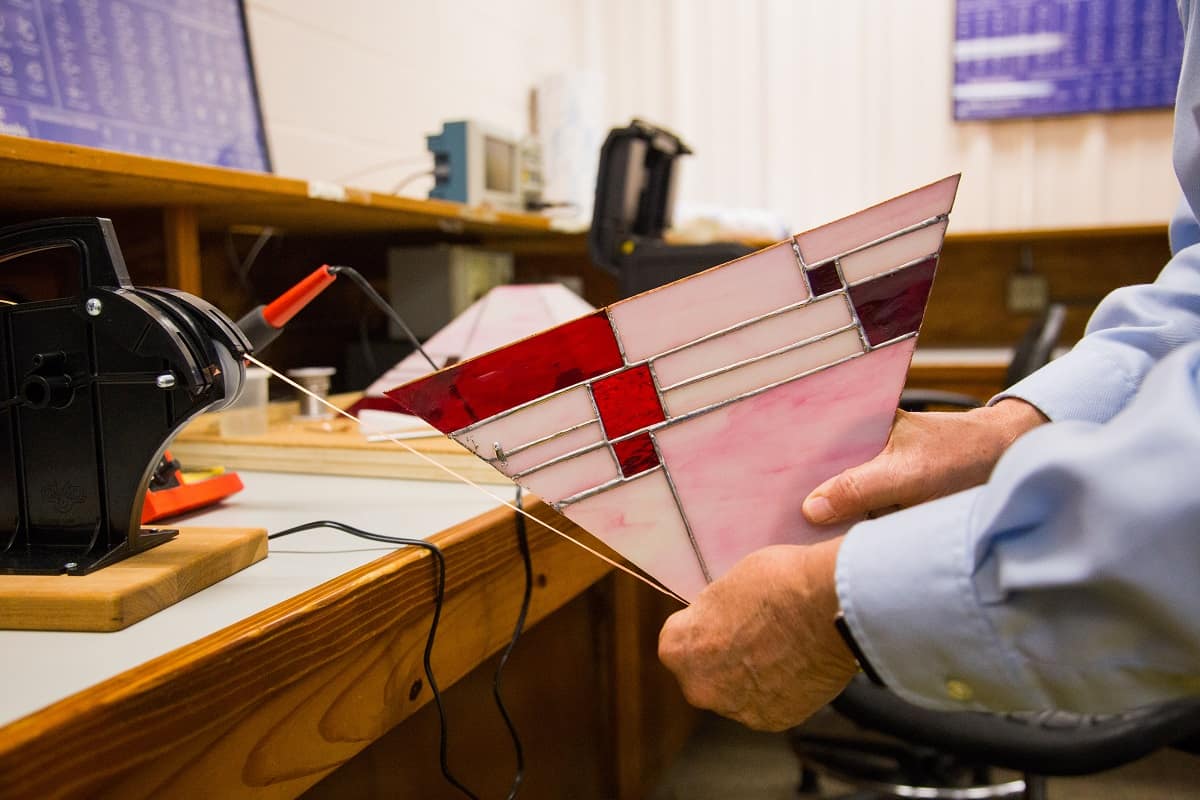 Last fall, several of the class's finished pieces were featured in an exhibition on campus.
"This is a way to show a different side of Embry-Riddle and the many talented individuals we have on campus," Brady said.
While intricate designs like Tiffany lamps can require thousands of pieces of glass and hundreds of hours of work, simple designs can be completed in just a few days. Students are required to purchase their own materials, but there is no fee to take the class. Lamps and glass panels are among the most popular projects and require picking a pattern, selecting and cutting the class, grinding the glass, and using a soldering iron to adhere the pieces.
Brady's advice for newcomers is to be patient, ask for help and watch out for the soldering iron.
During a recent class, Debbie Wheeler, an administrative assistant for the College of Arts and Sciences, put final touches on a white and green lamp she has been working on for several years.
"It's like a fine wine, it takes time," Wheeler said. "You can't rush it."
Brady's stained glass class takes place every Thursday at 5 p.m. in Hangar Q.
For more information, email
bradyt@erau.edu
.