Inspired by the history of aviation, the firm ikon.5 architects has designed the building with 6,100 pieces of steel to anchor the 177,000-square-foot structure. Construction of the building is expected to be completed in the summer of 2018.
"The building is structurally expressive and has a gracefulness to it inspired by birds of flight," Joseph Tattoni, principal at ikon.5 architects, said. "Over the history of humanity, there have been many advances of mankind representing his quest to leave earth. It's a very rich history and Embry-Riddle is part of that lineage and history."
The building's entrance will be adorned by giant strips of steel that resemble the wings of a bird and also shield the building's glass façade from the sun. Inside, four stories of open floors will be illuminated by natural light from a glass ceiling and will include a hub of student life with collaboration stations, a radio station, post office, library, offices for clubs, student affairs, student services, dining areas and a 900-seat events center.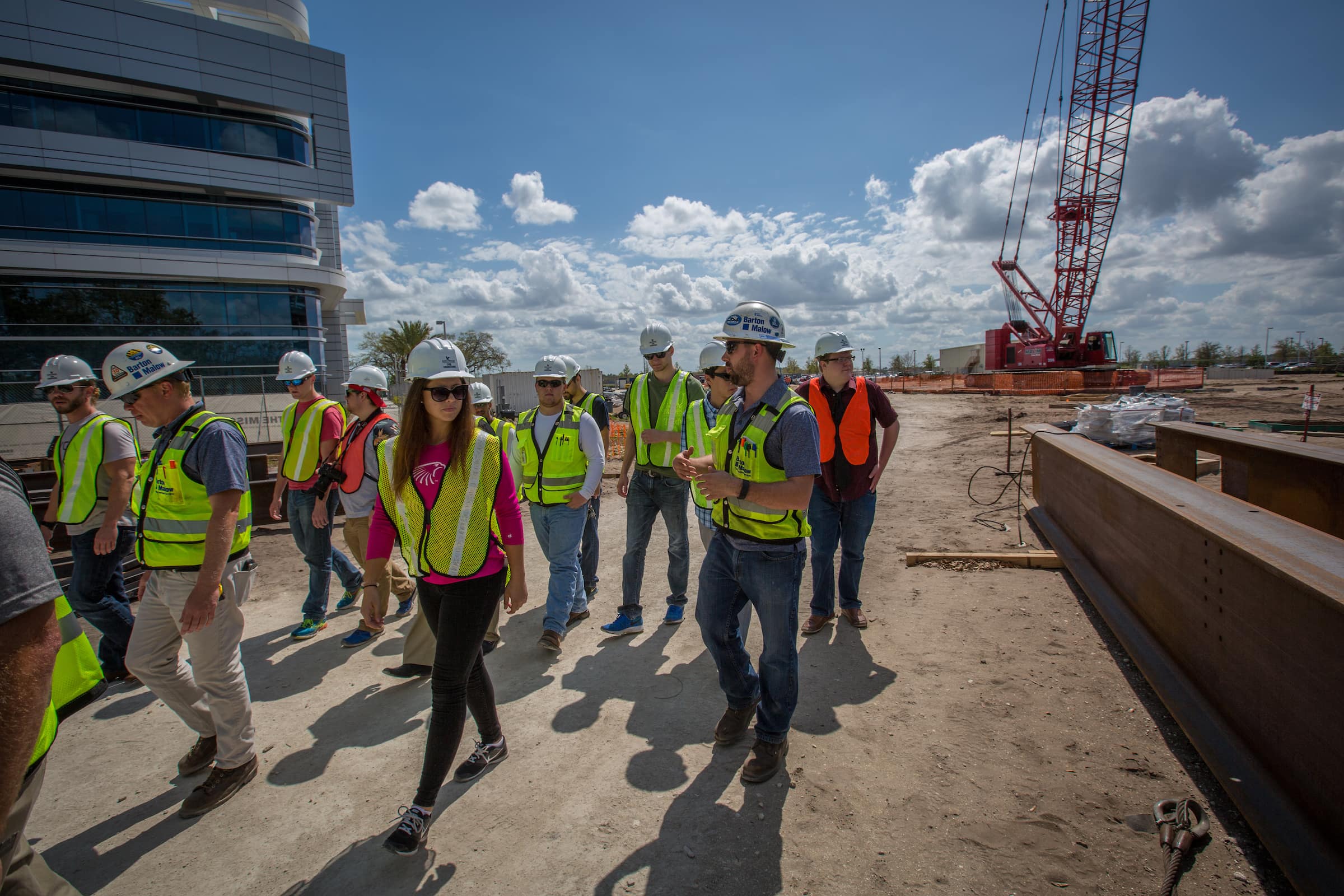 Tattoni said that few student unions have been designed with the same caliber of structural and functional aspirations. For example, the glass ceiling that towers above the fourth-floor library is designed to give students the feeling they are outside. To protect the building from sun exposure, architects and engineers used technology to place a coating of ceramic on the ceiling that will hold back the heat and sunlight. The functionality of the student union's event center also is unique because it can host as many as six events at once.
"This is more than a building, it's the center of student life," Tattoni said. "It's a place where you can study, collaborate, get assistance from student affairs and be part of everything."
Crews are currently in the process of assembling 70-foot steel beams, many of which will be exposed in the building when it's completed, using a massive 360-foot high crane. The steel itself takes six weeks to fabricate and deliver. The shell of the building is expected to be complete by the fall and interior work will take place through the spring and summer of 2018.
Engineering student Matt Maccarrone said having the opportunity to meet with structural engineers and visit the construction site steps away from his classroom gave him a better understanding of what it's like to be a structural engineer and bring a building to life.  
"This is a good opportunity to have some of our students get out here and see the progress and get some insight from engineers and learn what it is like to manage a construction site," Maccarrone said. "There are some really unique aspects to this project, so it was interesting to see it in progress."