"This program helps build the workforce for Brazil's booming aviation industry," said Fabio Campos, executive director of Embry-Riddle Central & South America, who spoke at a commencement ceremony on Oct. 26. "Embry-Riddle's global reputation in aviation and aerospace confers immediate recognition on those workers who participate in the Aviation Management Program, and that has been very clear with this class of graduates."
The professional advancement program was designed for employees of Brazil's four major airlines, Azul, GOL, Latam and Avianca. Courses are offered in English, online and face-to-face by Embry-Riddle Aeronautical University (ERAU) faculty. Participation in the 15-month program is free as part of Embry-Riddle's partnership with Servico Social do Transporte e Servico Nacional de Aprendizagem do Transporte (SEST SENAT), Instituto de Transporte e Logistica (ITL) and Associacao Brasileira das Empresas Aereas (ABEAR).
The class of 28 graduates visited Embry-Riddle's Daytona Beach Campus Oct. 22-26. The visit included a tour of Orlando International Airport and JetBlue University, an Embry-Riddle Experience campus tour, workshops, mock panels and project presentations.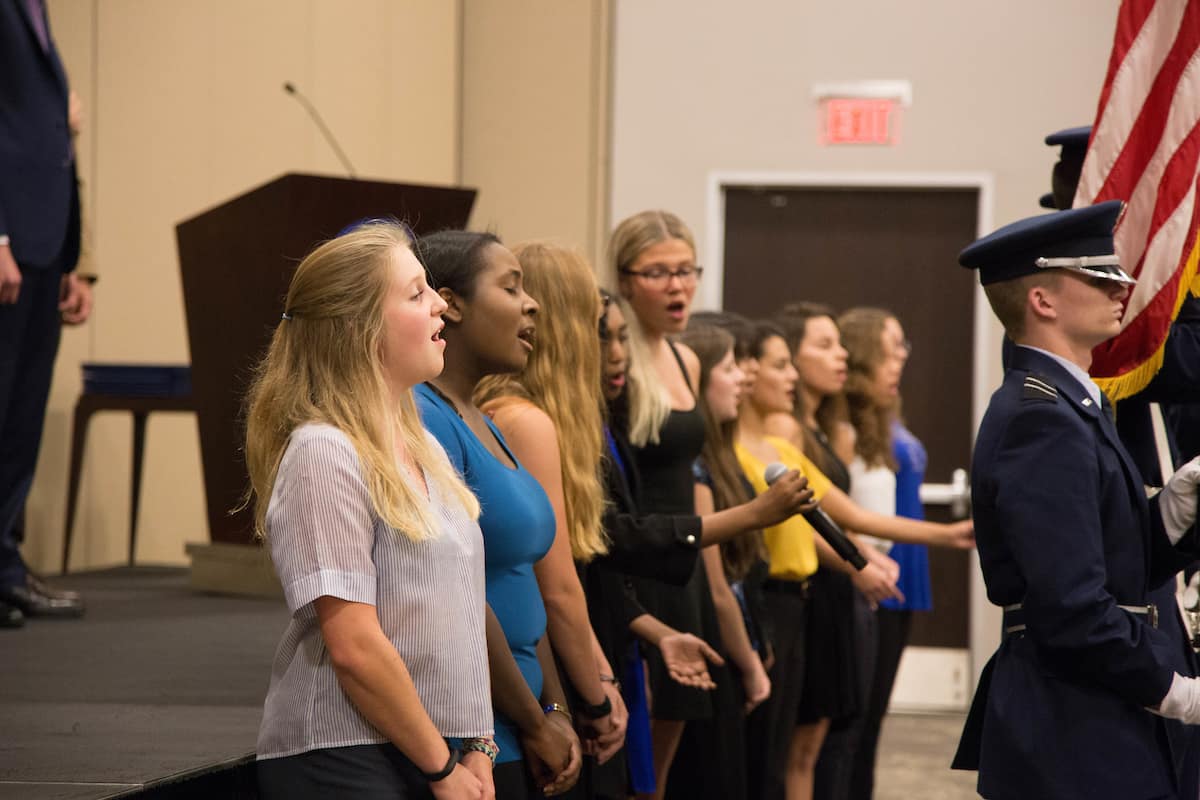 Commencement included a color guard presentation and the national anthems for both the United States and Brazil. (Photo by Daniela Cabrera)
The five-day visit culminated in a commencement ceremony and reception on Friday, Oct. 26, at the Henderson Welcome Center.
From its start, the class represented many different positions within the four major Brazilian airlines, with titles ranging from chief pilot, to maintenance processes coordinator, to corporate airport manager. At least three of the students gained positions of expanded responsibility while participating in the course, and three students headed to new positions abroad, in Chile, the Netherlands and Africa.
Joining Embry-Riddle leadership at the commencement ceremony were representatives from Brazil's aviation and education industry, including Azul Airlines Vice President Jason Ward and President John Rodgerson, who provided a keynote address; ITL Executive Director Dr. Joao Victor Mendonca; SEST SENAT Director Dr. Vinicius Marques de Sousa; and Mauricio Emboaba, technical consultant for ABEAR.
Embry-Riddle's Central & South America office opened in 2016 to support the aviation industry, government initiatives and private entities in Brazil with customized professional education programs in aviation and aerospace.
"We are very proud of Embry-Riddle's involvement in Central & South America," said Embry-Riddle Worldwide Chancellor Dr. John R. Watret. "With the help of our Brazilian partners, the Aviation Management Program is bringing world-class instruction and training to the front lines of a quickly advancing national industry."
— By Michaela Jarvis