Retired Boeing 777 Chief Test Pilot and the first woman to be rated as a captain on multiple commercial airline aircraft, Suzanna Darcy-Hennemann, will serve as commencement speaker for Embry-Riddle Aeronautical University Worldwide's Seattle Campus next month.
The commencement ceremony, which will include 107 undergraduate and graduate degree candidates, will be held at 7 p.m. Saturday, Sept. 9, at the Museum of Flight, 9404 E Marginal Way S, Seattle, WA 98108. Representing more than 13 states, the graduating class consists of 26 active/reserve service members and 32 veterans of the United States armed forces. University President Dr. P. Barry Butler is scheduled to attend.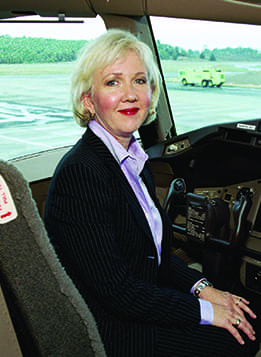 Darcy-Hennemann, who joined Seattle-based Boeing in 1974, spent her first seven years in engineering before being the aerospace giant's first woman to be named Production Test Pilot. She retired this year as Chief Pilot of Boeing Training & Flight Services. In that role, she had oversight of flight training operations worldwide and among her many accomplishments, was a pivotal member of the Boeing 777 program on all levels including design, testing and certification. She graduated from the University of Washington with a bachelor's degree in Aeronautics and Astronautics Engineering.
"Having someone such as Capt. Darcy-Hennemann speak at our Seattle commencement is an honor," said Embry-Riddle Worldwide Chancellor Dr. John R. Watret. "Her accomplishments in the world of aviation serve as inspiration not only to our current and graduating students, but also to anyone that shares her passion and commitment to this exciting industry."
Other events scheduled for the weekend include the Embry-Riddle Worldwide Seattle Industry/Career Expo from 10 a.m. to 2 p.m., Friday, Sept. 8, at the Doubletree Suites by Hilton Hotel (Seattle Airport), 16500 Southcenter Pkwy, Seattle, WA 98188. With nearly 30 major employers confirmed to attend including Alaska Airlines/Horizon Air, Amazon, Ameriflight, Blue Origin, Delta Global Services (DGS), Department of Defense (DoD), the Federal Aviation Administration (FAA), Federal Bureau of Investigation (FBI), Frontier Airlines, Garmin International, SkyWest Airlines, Transportation Security Administration (TSA) and more, the event is open to all Embry-Riddle students and alumni. Pre-registration is required, and information is available by calling (386) 226-6092 or emailing wwcarser@erau.edu.
An Eagles Gather Brunch Cruise alumni event will take place from 9:30 a.m. to 12:30 p.m. Sunday, Sept. 10, on Waterways Cruises through Lake Union and Lake Washington. Pre-registration for alumni, parents and students is available at alumni.erau.edu.
For more information Embry-Riddle Worldwide's Seattle Campus, go to worldwide.erau.edu/locations/seattle.
Media Contacts:
Kate McGillicuddy, Assistant Director, Embry-Riddle Worldwide Seattle (Renton) Campus; (425) 226-2484; seattle@erau.edu
Melanie Hanns, Director of University Media Relations, Embry-Riddle Aeronautical University; (386) 226-7538; melanie.hanns@erau.edu