The students, ages 14 to 17 and the majority female, were part of the 2018 UAE Ministry's Ambassadors Program who participated in the EducationUSA Academy, which provides opportunities for international students to improve their English skills and become more familiar with the U.S. higher education system, academic culture, campus life, and college admissions processes.
Through Embry-Riddle's Language Institute on the Daytona Beach Campus, the teens took classes to improve their reading, writing, listening and speaking skills with a focus on STEM content (science, technology, engineering, math), aviation and business. Students also learned how to write university entrance essays, test-taking strategies, academic vocabulary, American culture, university policies and overall college life experiences while staying on campus. They also visited Stetson University, University of Central Florida, Flagler College and Rollins College while learning American culture and touring Daytona International Speedway, Ponce de Leon Inlet Lighthouse, Kennedy Space Center, Universal Studios and St. Augustine.
In addition to living in the resident halls, Keith Boswell, director of the Embry-Riddle Language Institute, which provides academic English language and culture instruction to non-native speakers of English, said the teens heard from several groups on campus including admissions counselors, academic advisors, and student ambassadors. The UAE students also explored some departments on campus, meeting with professors in Human Factors, Aerospace Engineering, Astronomy and Astrophysics.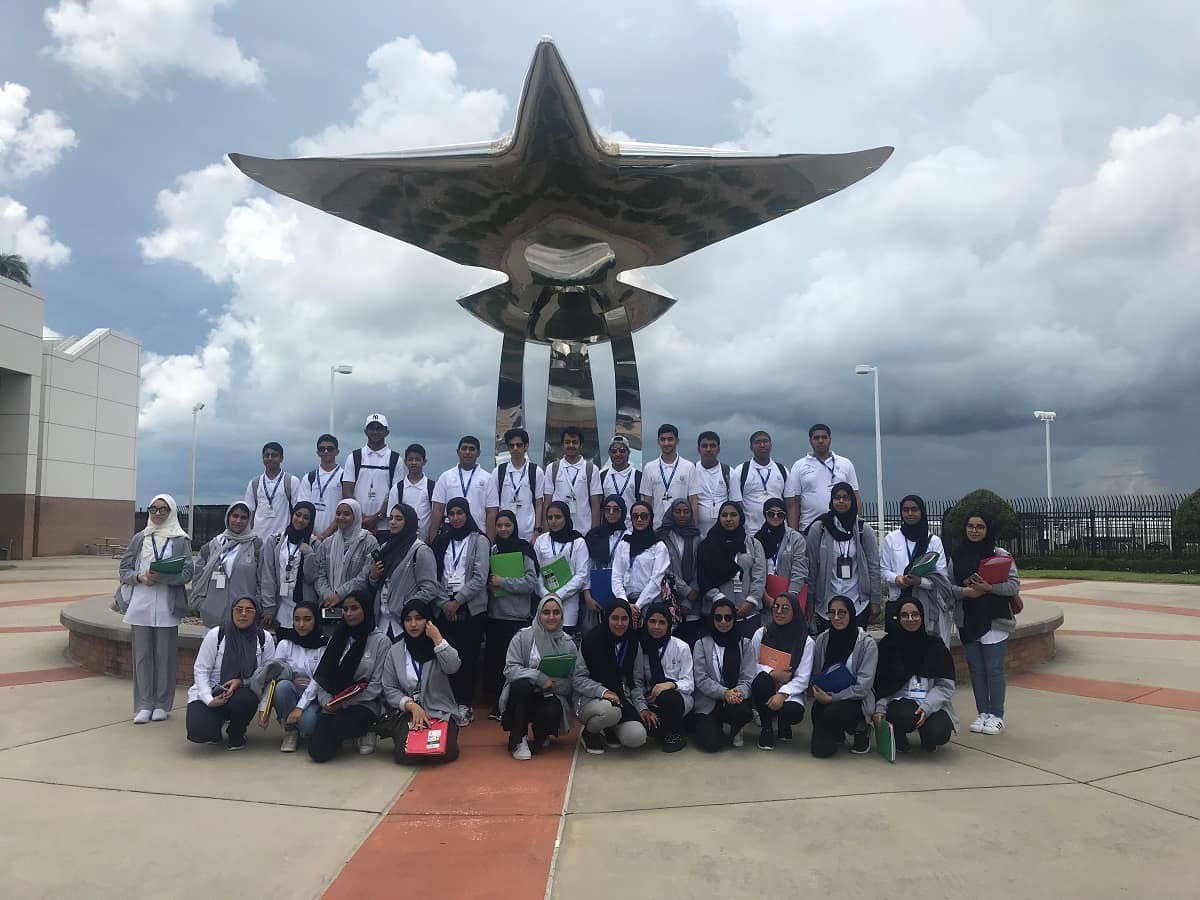 "The students are all college bound, and are mostly going into STEM fields, so this program is a great recruiting opportunity for Embry-Riddle," Boswell said.
Isabella Pichardo, student advisor, who is working on her master's degree in Business Administration, planned all the activities.
"I think the most important part of this program was to give international students an insider's experience of what it is like to be a student in the United States," Pichardo said.
The UAE Ministry of Education's Ambassadors Program exposes students to practices from elite institutions and prepares students for higher education studies abroad from an academic, social and cultural perspective. The minister, H.E. Hussain Ibrahim Al Hammadi, is a 1989 Aeronautical Engineering graduate of Embry-Riddle's Daytona Beach Campus.
"This also exposes students to live in other countries and to be dependent on themselves," added Fatma Al Aleeli, who came with the students as one of the chaperones from the Ministry of Education.
Students attending the program said they were impressed with degree opportunities at Embry-Riddle and touring the various colleges.
"I came here to improve my skills in speaking and writing," said high school senior Maitha Almazroei, 16, who wants to study chemical engineering. "I've enjoyed learning more about aviation and studying space and engineering."
One of the instructors with the Embry-Riddle Language Institute, Aliona Buresh, said the students were eager and motivated to learn something new every day.
"I loved walking into each class and feeling their energy and willingness to learn," Buresh said.
The U.S. Department of State's EducationUSA advising network includes more than 400 advising centers in more than 180 countries around the world that provide prospective international students with accurate, current and comprehensive information about U.S. higher education while supporting U.S. institutions' international student recruitment efforts. International education prepares students for today's globalized economy and societies, developing the relationships between people and communities in the United States and around the world that are necessary to solve global challenges.