Joining more than 100 female pilots to compete in the 'Collegiate Cross Country' event kicking off at the university's Prescott Campus and ending at its Daytona Beach Campus are 10 women representing both campuses. They will make stops along the route at cities representing institutes of higher learning with aviation programs including a stop in Albuquerque, N.M., near the Embry-Riddle Worldwide campus.
They are students and flight instructors – some who are returning to compete for a second year. And for the first time in the university's history participating in the ARC (which spans more than 20 years), there is a faculty team from the Daytona Beach Campus flying.
The women were selected for this prestigious competition by Embry-Riddle College of Aviation administrators from each campus on the basis of their piloting skills, their competitive spirit and their knowledge of aviation, safety, navigation, meteorology and crew resource management.
This special year marks not only the university's 90th anniversary, but also the 20th anniversary of the ARC running between Embry-Riddle's Arizona and Florida campuses. All Embry-Riddle teams will fly Cessna 172 aircraft from the university's fleet.
For information on this year's events at both campuses, go to the airraceclassic.org. Follow each leg of the 2016 Air Race Classic at airraceclassic.org/follow-the-race.htm or on Facebook at #ClassicRacer.
As events kick off with a barbecue in Prescott on June 18 and culminate in a banquet in Daytona Beach on June 26, here's a look at the Embry-Riddle race teams.
Read "Embry-Riddle to Host 2016 Start, Terminus of Historic Women's Air Race Classic."
Riddle Racer Team Blue (Sarah Wendt and Sojung An)
Sarah Wendt is flying the ARC for the second time for Riddle Racer Team Blue. A flight instructor at Embry-Riddle for four years, she says the thrill of last year's competition is what keeps her coming back. "What a whirlwind of a ride it is, and you get to share it with an amazing teammate and a group of fantastic competitors." She is a member of the Daytona Beach Eagles chapter of the 99s and of Women in Aviation International. Sarah volunteers her time to help young kids kindle their aviation dreams with Aviation Adventures' No Limits Girls Aviation Program and the Organization of Black Aerospace Professionals Aviation Career Education Academy in Atlanta. Her hope is to continue her professional pilot career by becoming a corporate pilot while still volunteering her time to help young people pursue their love for aviation.\
Sojung An is entering her first ARC. She recently graduated from the Daytona Beach Campus with her Bachelor's in Aeronautical Science with a minor in Applied Meteorology. She currently is working on her certified flight instructor certificate. Last year, Sojung, who is originally from South Korea, was on Embry-Riddle's ARC weather support team. Her hobbies include traveling the world and long boarding.
Follow Riddle Racers on Facebook.

Riddle Racer Team Gold (Emmy Dillon and Abigail Pasmore)
Pilot Emmy Dillon is back for her second ARC, having finished fourth in the collegiate group and sixth overall last year. Majoring in Human Factors Psychology, she hopes to apply that expertise to a career improving flight safety at a major aircraft manufacturer after graduation. She is flying the ARC because, "I love flying and aviation and I love testing my knowledge in a practical manner and refining my piloting skills. The race is a perfect combination!" Emmy is captain of Embry-Riddle's Eagles Flight Team, a member of the Old Dominion chapter of the 99s and a member at-large of Women in Aviation International.
Another returning pilot to the ARC, Abigail Pasmore is "always looking for a challenge and a way to improve upon my aviation knowledge and flying skills." She also says the experience allows her to "meet and develop lasting friendships with aviators from all parts of the country and backgrounds." Abbie graduated from the Daytona Beach Campus with a Bachelor's degree in Aeronautical Science and a minor in Business. Now, she is a flight instructor at the university and is a member of the Embry-Riddle-Daytona Beach chapter of Women in Aviation International. She also works closely with organizations that raise awareness of autism.
Follow Riddle Racers on Facebook.

Classic Racer #34 (Hannah Burright and Shelby King)
Hannah Burright is a senior scheduled to graduate in December majoring in Aeronautical Science. Originally from Rancho Cucamonga, Calif., she decided in her junior year of high school that she wanted to fly as a career. "I've always been interested in airplanes and traveling and when I learned about the flight training program at Embry-Riddle, I knew that this school and program were perfect for me!" When she's not flying, Hannah says you can find her outdoors – hiking, rock climbing, wakeboarding and camping.
Returning for a second year competing in the ARC, Shelby King is a Prescott alumna (2015) with a B.S. in Aeronautical Science and a Management minor. Originally from Westminster, Colo., she is a flight instructor at the Prescott Campus. She fell in love with flying as a teenager, and went on to receive her private pilot's license before graduating high school. "I went up on my first flight in eighth grade with a retired Navy aviator and decided that I wanted to be a pilot."
Follow the Golden Eagles ARC team on Facebook.

Classic Racer #35 (Hannah Rooney and Rachel Hutzell)
A recent Prescott graduate with a B.S. in Aeronautical Science and minors in Safety Science and Mathematics, Hannah Rooney will compete in her first ARC. Originally from Youngstown, Ohio, she came to Embry-Riddle for two reasons – "the amazing flight program and warm weather." She always has had a love of aviation, but actually started flying at the age of 13 when she was introduced to gliders by her grandfather. In the fall, she will be employed at the Prescott Campus as a flight instructor in addition to working on a Master's degree in Safety Science. A Prescott alternate pilot for a previous ARC competition, her future goal is to become a corporate pilot.
Rachel Hutzell, currently a senior in the Aeronautical Science degree program at Prescott, has always known "I had to be the one at the controls someday." She is currently a CFI with the goal of instructing at this Embry-Riddle for a few years before searching for a job in the airline industry. Originally from Urbandale, Iowa, she is a member of the Prescott Campus Golden Eagles Flight Team that earned its 10th National Championship this year at the NIFA (National Intercollegiate Flying Association) National SAFECON Competition.
Follow the Golden Eagles ARC team on Facebook.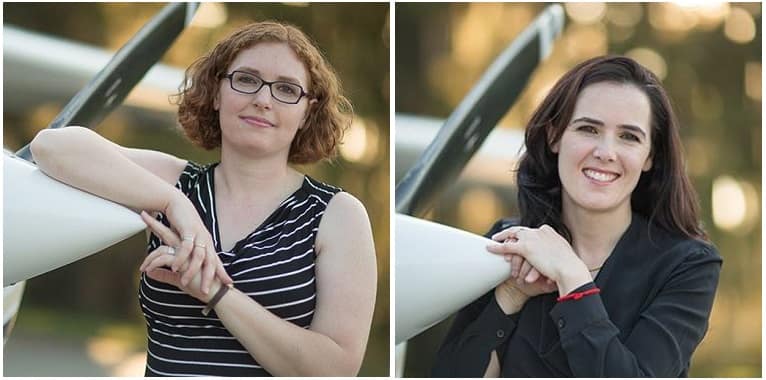 Team Bernoulli (Virginie Rollin and Naiara Petralanda)
Naiara Petralanda is an adjunct professor at Embry-Riddle's Daytona Beach Campus teaching senior and freshman engineering courses, as well as working on the design and development of a hybrid turboprop/electric aircraft propulsion system. She commutes to work from her Central Florida home in her Cessna 172 and goes by 92Romeo because many people have trouble pronouncing her name — so they call her by her aircraft's tail number instead. Asked why she is racing, 92Romeo said, "The Air Race Classic provides a unique opportunity to challenge myself. After years behind the controls of my C172, I will really be able to find out if I know my airplane as much I think I do!"
Born in France, Virginie Rollin is a professor of aerospace engineering at Embry-Riddle and is flying the race for the challenge, the camaraderie, the experience, the outreach, "and because I can!" A self-described aviation geek, Virginie loves to visit aviation museums and watch shows on anything aviation-related. A mother of a 5-month-old boy, she is also a member of the Florida Spaceport chapter of the 99s.
Follow Team Bernoulli on Facebook.