Three teams, consisting of two female student pilots and flight instructors each, will represent Embry-Riddle's residential campuses in Daytona Beach, Fla., and Prescott, Ariz., will make the more than 2,600-mile air trek across the United States along with nearly 100 women pilots in an air race that traces its roots back to Amelia Earhart.
Embry-Riddle pilots scheduled to participate from the Daytona Beach Campus are Mia Hallgring and Cara Baldwin, who despite having participated in the race five times with her family, will represent Embry-Riddle for the first time. Two Prescott Campus pilots from last year's competition are returning this year – Hannah Burright and Rachel Hutzell – will be joined by Becca Dooling and Jenn Lowe.
What began in 1929 as the Women's Air Derby is today a women-only race testing piloting skill and aviation decision-making for female pilots of all ages and from all walks of life including university students, commercial airline pilots, former military and aviation enthusiasts.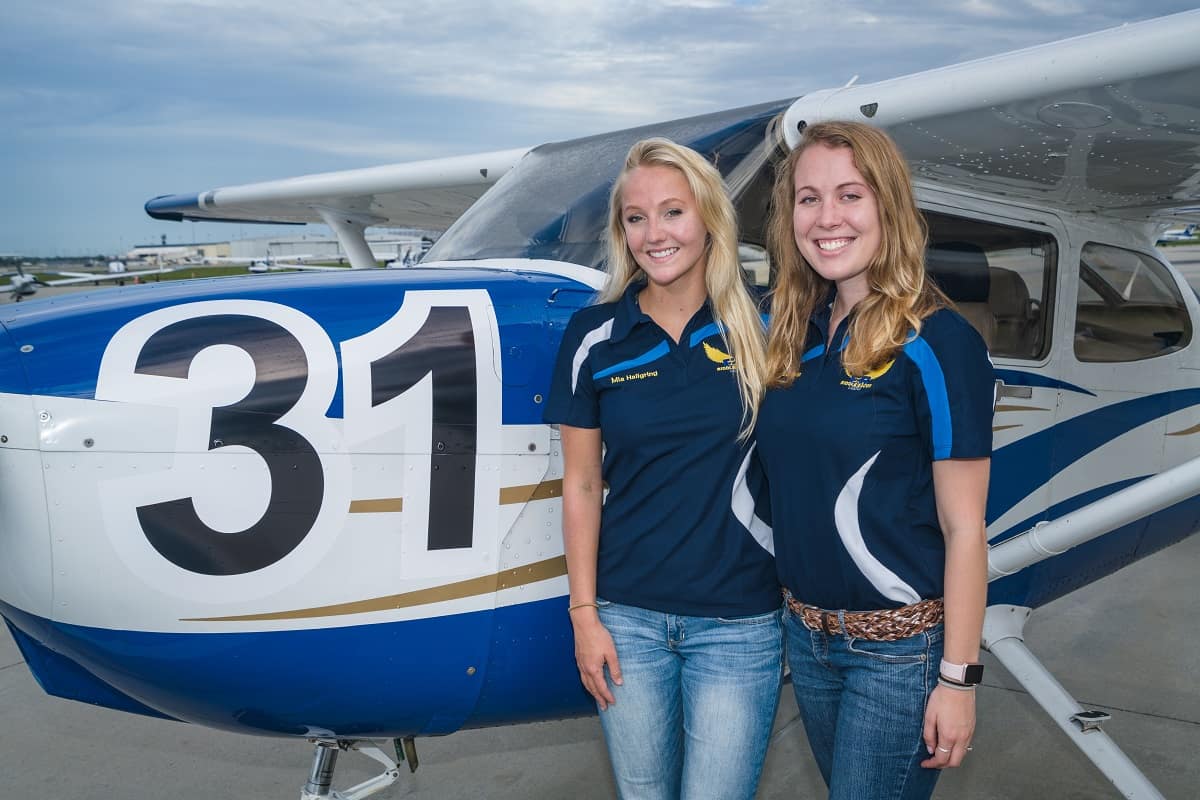 Representing the Daytona Beach Campus:
Riddle Racer Blue Team #31:
Cara Baldwin – A senior in the fall who is graduating a semester early in December, Baldwin recently completed an internship with United Airlines. A Certified Flight Instructor (CFI), this is her fifth time competing in the ARC but the first time representing Embry-Riddle. Last year, Baldwin finished seventh overall as part of the Baldwin Family Flyers team, which consisted of her aunt and grandmother.
Mia Hallgring – Originally from Little Compton, R.I., Hallgring is a 20-year-old senior who recently finished her CFI and will start working on her multi commercial in the fall. She loves flying, playing ice hockey, shooting guns and working on her Jeep. Her future plans include flying for the Air National Guard in addition to a major airline.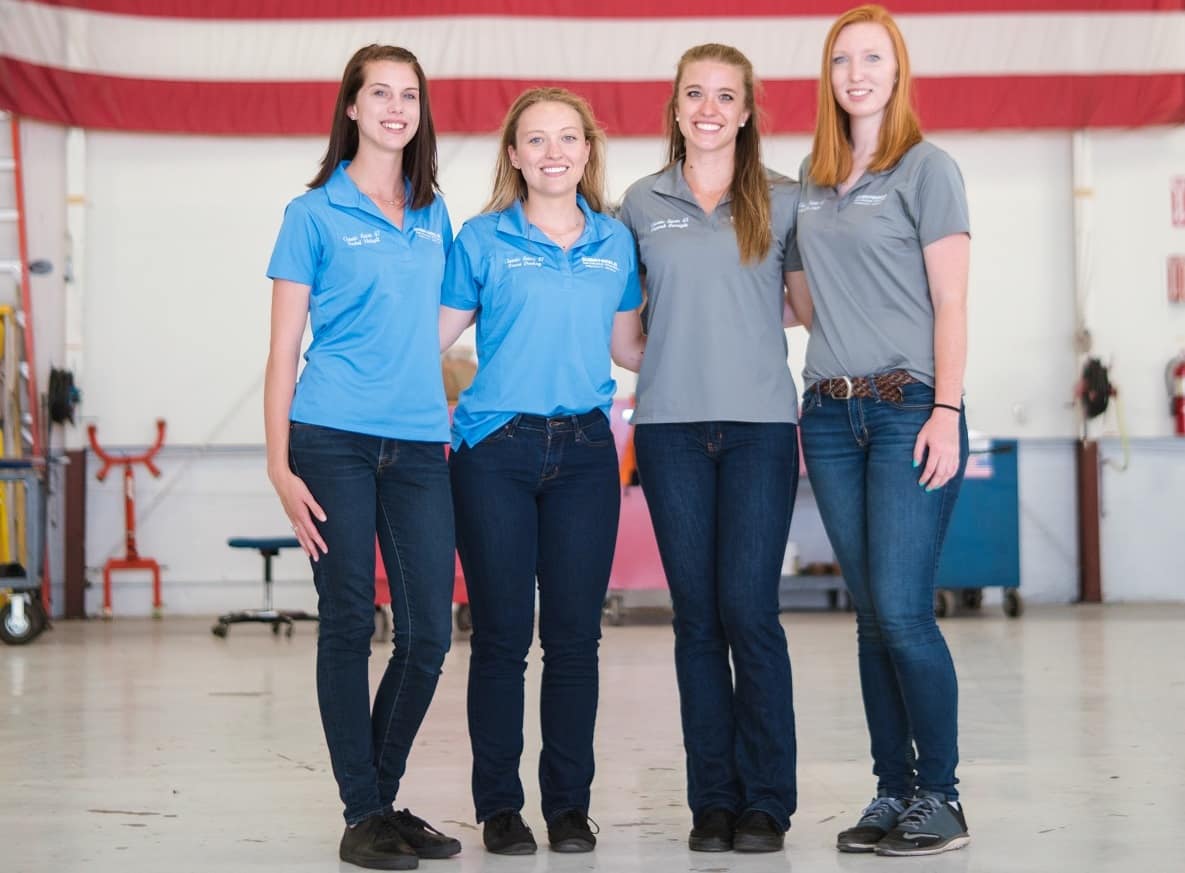 Representing the Prescott Campus:
Gurley Girls #47
Rachel Hutzell – A member of the Prescott Campus 11-time NIFA (National Intercollegiate Flying Association) SAFECON National Champion Golden Eagles Flight Team, Hutzell graduated in May 2017 with an Aeronautical Science degree. Currently a CFI, she hails from Urbandale, Iowa, and is returning for a second year to the ARC having finished in seventh place in collegiate competition and 16th overall with then teammate Hannah Rooney.
Rebecca (Becca) Dooling – A May 2016 graduate with an Aeronautical Science degree, Dooling currently is a Certified Flight Instructor at the Prescott Campus. Originally from Simi Valley, Calif., she fell in love with flying during her first commercial flight as a child, proudly declaring she would be a pilot since the eighth grade. She hopes to use her experience to one day work in the airline industry as a commercial pilot.
Granite Eagles #48
Jennifer (Jenn) Lowe – Originally from Chicago, Lowe graduated in May 2016 and hopes to be a CFI with the Prescott Campus. She was on the 2015 CalPac champion Prescott women's soccer team and her hobbies include camping, hiking, sports, off-roading, reading, photography and exploring the mountains of Arizona.
Hannah Burright – A December 2016 graduate with a degree in Aeronautical Science who now is a CFI for her alma mater, Burright finished ninth in collegiate competition and 23rd overall in last year's ARC race with then teammate Shelby King. The Rancho Cucamonga, Calif., native loves flying, hiking, rock climbing, wakeboarding and camping.
The women were selected for this prestigious competition by Embry-Riddle College of Aviation administrators from each campus on the basis of their piloting skills, their competitive spirit and their knowledge of aviation, safety, navigation, meteorology and crew resource management. All Embry-Riddle teams will fly Cessna 172 aircraft from the university's fleet.
Embry-Riddle racers have delivered impressive performances in the Air Race Classic over the years. A Daytona Beach team has participated every year since 2007, finishing five times as the No. 1 team in the collegiate division, and finished No. 1 in the overall competition in 2016. Prescott has taken part every year since 2009, ranking as high as No. 2 in the collegiate division and No. 4 in the overall competition.
All teams will be documenting their progress during the ARC on social media. To follow the Prescott Campus teams, visit the Prescott Women's Air Race Classic Group on Facebook, or go to @erauprarc on Instagram. For the Riddle Racers team, go to their Facebook page at facebook.com/riddleracers.
For details on this year's route, go to airraceclassic.org.
Media Contacts:
---
About The Air Race Classic
Air Race Classic Inc. is an all-volunteer, nonprofit 501(c)3 organization with a mission of encouraging and educating current and future female pilots, increasing public awareness of general aviation, demonstrating women's roles in aviation, and preserving and promoting the tradition of pioneering women in aviation. For more information, go to airraceclassic.org.