Embry-Riddle Teams with Airbus to Advance Workforce Goals in Alabama and Globally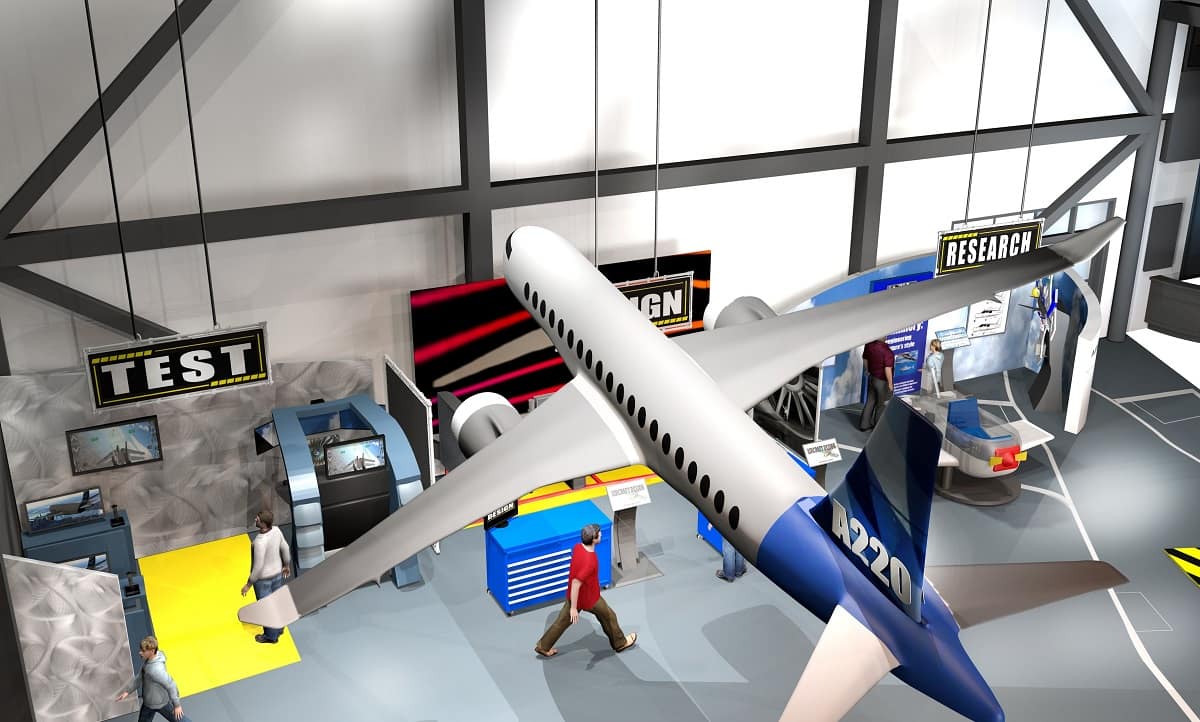 Under an unprecedented and far-reaching partnership agreement with Airbus, Embry-Riddle will offer its award-winning educational programs at Flight Works Alabama – a major new aviation experience center designed to build workforce capacity across the aviation and aerospace fields.
Embry-Riddle Aeronautical University leadership on Wednesday joined Airbus executives, Alabama Governor Kay Ivey, and city and county officials in Mobile, Ala., to break ground for Flight Works Alabama, which will house the latest Embry-Riddle Worldwide Campus.
Promoting career advancement and upward mobility for Airbus employees and other Mobile-area professionals as well as first-time college students and high school students engaged in a dual-enrollment program will be the focus of Embry-Riddle's campus at Flight Works Alabama. The new campus will offer targeted Associate's, Bachelor's and Master's degree programs, high school dual-enrollment opportunities, highly specialized training and continuing education.
Flight Works Alabama, an 18,000-square-foot educational and experience facility, has a goal to "bolster Alabama's workforce development efforts and inspire young people to pursue careers in aerospace," Airbus explained in its official announcement on the venture.
Joining Gov. Ivey and Airbus leadership for the ground-breaking ceremony were Embry-Riddle President Dr. P. Barry Butler, Embry-Riddle Worldwide Chancellor Dr. John R. Watret and Worldwide's Vice Chancellor for Campus Operations William Muldoon, among others.
"We are honored and excited to partner with Airbus, a premier international leader in aerospace, on this important new venture," Dr. Butler said. "As a global leader in online education, Embry-Riddle has the stellar curriculum and know-how to support the workforce goals of Airbus and the State of Alabama, and to help increase interest in aviation and aerospace among young people more broadly."
Worldwide Chancellor Watret said: "Through our unique partnership with Airbus, Embry-Riddle will offer degree programs and training programs specifically tailored to the Airbus mission and workforce needs. We will also provide graduate career resources to identify highly skilled employees for the local, national and international aviation and aerospace workforce, and we will work to ignite young people's interest in careers that will benefit them and their communities."
Jeff Knittel, Airbus Americas Chairman and CEO said at the ceremony, "Success for Airbus, and any company, means we can't just look at what we're doing now; we need to look at what we need later – whether it be next year, next decade, or the next five decades. What Airbus and other companies in our industry need to be successful in the future is a skilled, knowledgeable workforce that is ready for that future. Flight Works will help us create that workforce in a fun, creative way."
Worldwide Vice Chancellor Muldoon noted that "starting at Fort Ruckert in 1970, Alabama is at the core of Embry-Riddle Worldwide's heritage. Today, at Flight Works Alabama, we are poised to deliver on our institutional mission in an unprecedented way for all of the people of Mobile. Embry-Riddle is ready. Airbus is ready. Mobile is ready. My team and I look forward to getting to work."
An Elite Group of Partners
Embry-Riddle was selected as one of nine education partners to support Flight Works Alabama, which also involves leading industry and community sponsors.
Other participating schools are Auburn University, Bishop State Community College, Coastal Alabama Community College, Troy University, Tuskegee University, University of South Alabama, University of Alabama and University of West Alabama. Industry and community sponsors for the project so far include the Airbus Foundation, Alabama Power Foundation, Conde Systems, the Mobile County Commission, Mott MacDonald, Hoar Program Management, Johnson Controls, Mech-Net, Pratt & Whitney, Safran and Snap-On.
"Aerospace is a premier industry, filled with innovative developments and high demand jobs, which are sought after by every state," Gov. Ivey said at the ceremony on Wednesday. "Flight Works Alabama will become a hub to explore the opportunities of this industry. As our state continues to grow this sector, we must show Alabamians all that the aerospace industry can offer them, today and in the years ahead."
Embry-Riddle Worldwide has extensive experience in reaching out to youth. For example, in concert with Women in Aviation International, the university will offer a massive open online course, or MOOC, Oct. 8-23, specifically for learners ages 8 to 12, entitled "Aviation is Your Future."
Earlier this year Embry-Riddle's Worldwide Campus was ranked by U.S. News & World Report as No. 2 in Best Online Bachelor's Programs – the only private, not-for-profit institute out of 346 universities nationwide ranked in the Top 5. Since 2014, Embry-Riddle Worldwide has ranked in the top five of the annual list, including being named No. 1 for the past two years.
The Worldwide Campus was once again named the top school in the country in U.S. News & World Report's Best Online Bachelor's Programs for Veterans and its online graduate business program (excluding MBA) was also named one of the top programs in the nation.