In her role as Dean, Dr. Ganter will oversee undergraduate and graduate degree programs, general education and 447 faculty and staff in Embry-Riddle Worldwide's College of Arts & Sciences.
She officially started at Embry-Riddle Worldwide on Aug. 21.
Dr. Ganter comes to Embry-Riddle from her position as Director for the VT-Qualcomm Thinkabit Partnership, Professor of Mathematics, and Professor of Education at Virginia Polytechnic Institute and State University, where she formerly served as Director for the School of Education (SOE). Her work focuses on the evaluation of innovations in postsecondary science and mathematics curricula, also including articulation issues from K-12 to college education. Student access and success at the postsecondary level are natural components of her work, including the implementation and evaluation of programs designed to improve success rates for underrepresented students.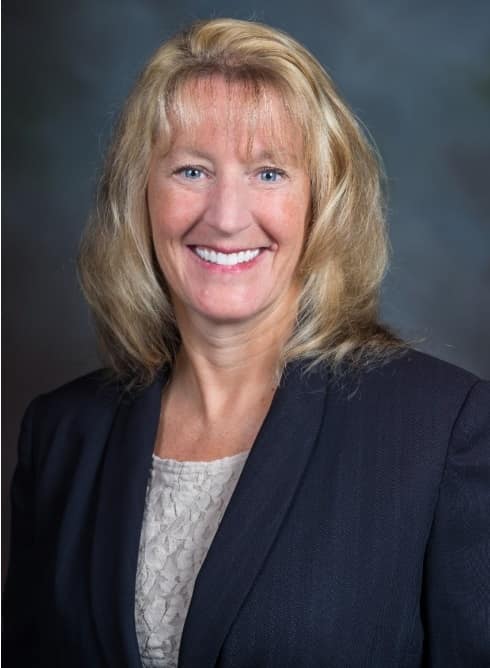 A current example is the Thinkabit project, a $2.55 million partnership between Education and Engineering at Virginia Tech and Qualcomm, Inc. that is centered on the replication and expansion of the Thinkabit experience, first developed at Qualcomm and including a combination of a lab, makerspace and classroom for K-12 students and educators. As Director, Dr. Ganter is working with the team to develop curricular and programmatic activities to facilitate the long-term engagement and preparation of teachers and their students in STEM-related activities.
Dr. Ganter also has been Director since 1999 for the Curriculum Foundations (CF) Project housed at the Mathematical Association of America. The CF work includes research about classroom practices in undergraduate mathematics, with a focus on interdisciplinary collaborations resulting in the development of courses in both mathematics and the partner disciplines that support the preparation of students for careers in Science, Technology, Engineering and Mathematics (STEM) and non-STEM disciplines. Currently, Dr. Ganter is Principal Investigator (PI) for a recently-funded $2.64 million National Science Foundation project, focused on a national consortium of 11 institutions for the purpose of wider dissemination and implementation of the recommendations from the CF work across numerous disciplines.
"We are incredibly pleased to have such a highly qualified professional as Dr. Ganter leading the College of Arts & Sciences into the future," said Embry-Riddle Worldwide Chancellor Dr. John R. Watret. "Her leadership skills, research background and experience at a respected institute of higher learning will not only be a valuable addition to Worldwide, but to the university as a whole."
As SOE Director at Virginia Tech, Dr. Ganter worked with faculty and staff on the successful reorganization of the School centered around three research hubs that support faculty in the development of programs and projects that are interdisciplinary in nature. Combined with the creation of a faculty-led Executive Advisory Council and an integrated all-School structure for the staff and their responsibilities, this reorganization has streamlined the business of SOE while affording more faculty input that crosses previously-held disciplinary boundaries. In addition, Dr. Ganter led the development of a new student recruitment plan that resulted in increased student enrollments in Fall 2016, for the first time since Fall 2007. Dr. Ganter also initiated activities that have increased the involvement of alumni and doubled annual giving to SOE, including a Scholarship Awards Dinner, designed to provide benefactors an opportunity to meet and interact with student recipients of the awards they have endowed, and an Educators Hall of Fame, to honor lifelong achievements of educational leaders at all levels through nominations that include donations to a scholarship fund.
Additionally, she led the growth of SOE's external funding portfolio from $16.2 million (with 18 grant-active faculty) to $28.1 million (27 grant-active faculty) through strategic reinvestments such as an internal faculty research fellowship program, utilization of salary savings and overhead dollars to support faculty reassigned time, and the hiring of part-time support via grant writers, budget managers, and grant-active emeriti faculty to mentor new PIs.
Before joining Virginia Tech, Dr. Ganter served as Professor and Chair for the Department of Mathematics, Science, and Instructional Technology Education and Professor of Mathematics at East Carolina University (ECU), where she led a faculty collaborative across the sciences that resulted in an unprecedented cluster hire in science education (five new tenured/tenure-track joint appointments with biology, chemistry, physics, geology and geography). Prior to ECU, she was a Mathematical Sciences faculty member at Clemson University, Worcester Polytechnic Institute, and California State University, San Bernardino. She also has served as National Director of the Centers for Ocean Sciences Education Excellence (COSEE) and Executive Director of the Association for Women in Science (AWIS), and was a founding member and Director of the National Numeracy Network, a non-profit (403c) organization whose purpose is to develop and disseminate materials and professional development opportunities that focus on quantitative literacy for all citizens. As an Assistant Professor, she was awarded a prestigious Senior Research Fellowship from the National Science Foundation (NSF) and the American Educational Research Association (AERA), which resulted in a two-year research residency at NSF. Dr. Ganter has authored or edited more than 50 publications, including seven books and has been PI/co-PI on funded projects totaling over $12 million.
She holds two bachelor's degrees in Music Education and Mathematical Sciences, both from Southern Methodist University, and a master's degree in Applied Mathematics from the University of California, Santa Barbara, where she also earned her doctoral degree in Educational Administration (Mathematics). She holds lifelong K-12 and community college teaching credentials in music and mathematics.
"It is an honor and thrill to join Embry-Riddle Worldwide as Dean for the College of Arts & Sciences. Embry-Riddle's amazing history, distinguished graduates, and widespread reputation as a leader in technology-based education for all disciplines make this opportunity to join the Eagle team very exciting for me," said Dr. Ganter. "The possibilities for growth and new partnerships are endless!"
Outside of her work as Dean, Dr. Ganter enjoys singing, swimming, and long walks on the beach — especially if these activities include her two children, Jamie, 13, and Adam, 8.