"It has been an amazing journey and the opportunity of a lifetime to work with such a committed and professional faculty and staff, amazing students, alumni, parents, and wonderful Prescott community leaders and friends," said Ayers.
Following a successful and decorated career in the U.S. Air Force, Ayers retired as Colonel in 2000. He was Department Chair of Embry-Riddle's Daytona Beach Flight Department until 2009, when he accepted the position of Chancellor at the Prescott Campus.
Under Ayers' leadership, faculty, staff, alumni, students, parents and donors have worked together to accomplish some incredible milestones in the past ten years, including: A 60 percent enrollment increase, featuring a 25 percent female student body (up from 17 percent in 2009). Ten new degree programs have been added, and the nation's first and only College of Security and Intelligence was established in 2014. Seven new athletics programs have been introduced and the campus joined the Cal-Pac conference in 2012. The new, state-of-the-art STEM Education Center featuring the Jim and Linda Lee Planetarium opened in October 2017 and has welcomed more than 20,000 community visitors to date. The campus has also opened two brand new residence halls within the last three years.
"In celebrating its 40th anniversary, I was impressed by the deep commitment it took to make the Prescott Campus so respected academically and so valued by the community," said Embry-Riddle President Dr. P. Barry Butler. "We owe Dr. Ayers and his wife, Debbie, our thanks for creating the student-first campus culture that makes Prescott the special place that it is."
The University will commence a national search to recruit a successor.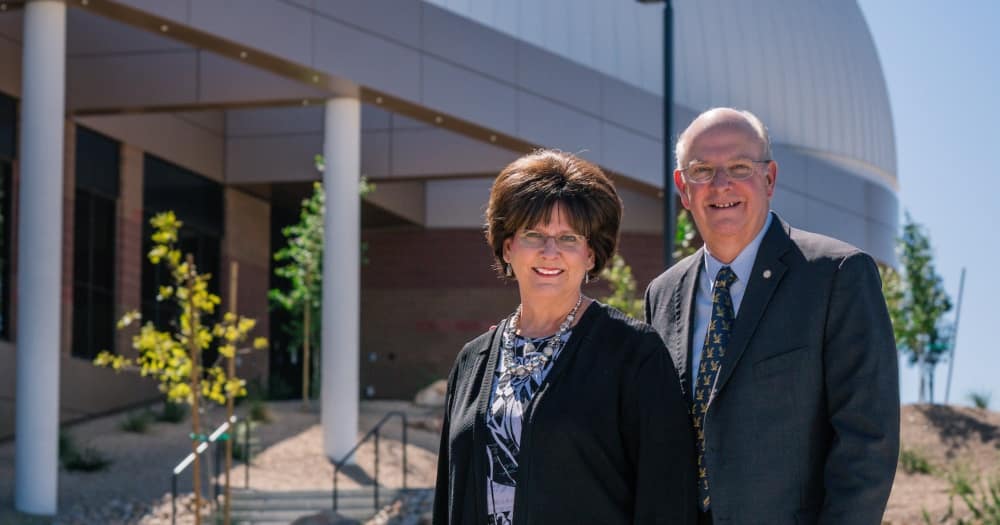 (Photo: Connor McShane/Embry-Riddle)