In a packed College of Aviation atrium with students filling the balconies, Delta pilots, including two Embry-Riddle alumni, explained to students how the partnership with Embry-Riddle's Daytona Beach and Prescott, Arizona campuses will provide them with a defined, accelerated career path for juniors and seniors who are accepted into the program and pass testing and qualification requirements.
"You can look at Propel as the first on-ramp to Delta," said Capt. Steve Dickson, former senior vice president of Flight Operations for Delta.
The Propel program, which includes Embry-Riddle and six other initial partner universities, is just one way to become a Delta pilot, officials said. The program will supplement the airline's current recruiting structure, which includes recruiting and hiring pilots currently flying in the airline, military and corporate sectors.
"What this relationship is about is opportunity," Dickson said. "Delta is only partnering with the best."
Students who are accepted have their choice of three unique career routes and an accelerated timeline to progress to Delta, in 42 months or less, after:
Flying for one of the Delta Connection Carriers
A job-share flying for Delta Private Jets while continuing to be a flight instructor for one of Delta's partner collegiate aviation institutions
Flying military aircraft for the Air National Guard or Reserves.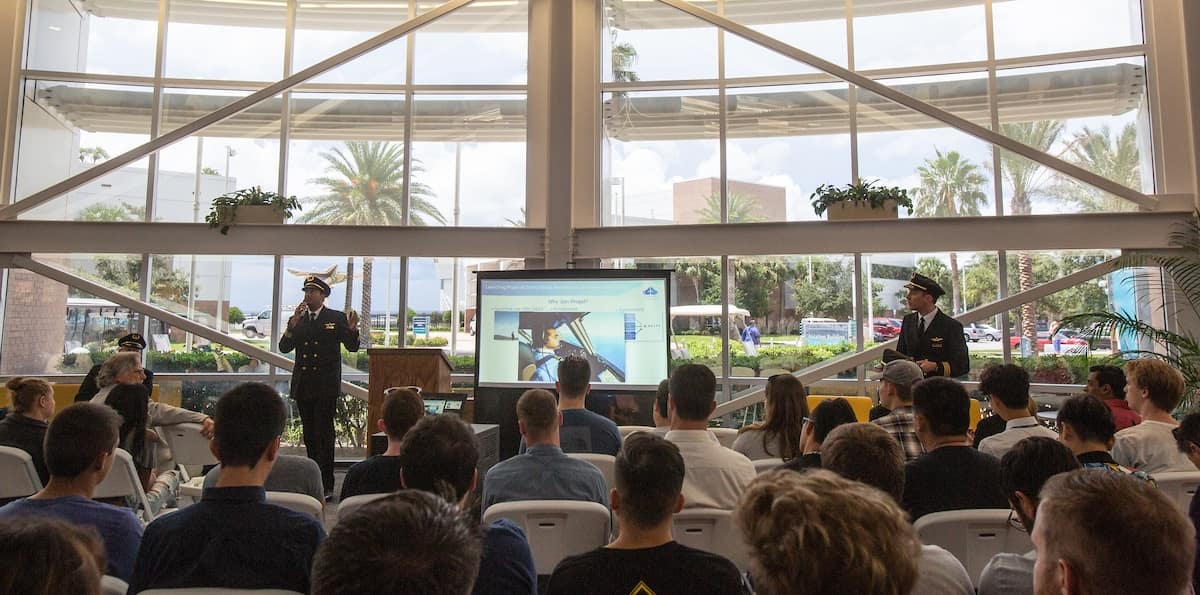 Dr. Michael E. Wiggins, professor and Aeronautical Science department chair, told students the program is a "game-changer" for the industry.
"We are so proud to be a part of this program," added Embry-Riddle President Dr. P. Barry Butler, who described Propel as "perfect for Embry-Riddle and perfect for Delta."
Lon D. Moeller, provost and senior vice president for Academic Affairs, said the program will raise Embry-Riddle's relationship with Delta to a much higher level and provide a great example of working with industry to address the pilot shortage.
Embry-Riddle flight students who have begun applying for the program see Delta's Pilot Career Path Program as a way to get closer to their dreams of flying for a commercial airline. Many stayed after the presentation to talk to Delta representatives, including First Officers and Pilot Outreach Managers Brent Knoblauch and Ashish Naran, along with alumni and First Officers Kimberly Ewing and Cristoffer Dalmau, who will be college liaisons working with Embry-Riddle students who are accepted into the program.
Aeronautical science junior Ryan Burrow has already applied for the program and thinks it gives students an opportunity to "see light at the end of the tunnel" knowing they will have a more accelerated path to Delta.
Jade Lubinski, an Embry-Riddle certified flight instructor and senior Aeronautical Science major, who is graduating in December, is hopeful she will be accepted. A flight operations intern for Delta last fall, Lubinski has several conditional job offers with regional airlines, but said that being part of Propel will give her a Delta mentor to work with and ensure a path to Delta after she flies for the regional airlines.
"I think this program is phenomenal. I think it's great they are being so aggressive targeting college students," she said. "This is more personalized because you are receiving a mentor and they already know your whole background."
Embry-Riddle flight instructor and senior Ryan O'Donnell also thinks the program may make his career path "smoother and less stressful" so he can financially plan for his future. He is graduating in the fall and has an offer to fly for Endeavor Air, Delta's wholly-owned regional airline.
Delta will accept applications twice a year in the Propel program. The current application window ends Sept. 5.