The 35-year-old, a graduate of the Embry-Riddle Central & South America Aviation Management Program, deflects admiration for his weekly mission, insisting that by helping others in this way, he receives more than he gives.
"Volunteering like this is a constant learning process, and we often cannot decide whether we are giving or are receiving," De Lima said. "We deliver the food and in return receive much love, affection, stories, and life examples. Certainly this work makes us better human beings every week."
De Lima moved to São Paulo in 2012 from the small city of Aguaí to work at an airline now known as LATAM. Just after arriving, he started researching opportunities to do volunteer work in his off hours for people in need. "I always wanted to help other people in order to give more meaning to my life," he explained.
De Lima discovered a group called the Amarelinhos, which had begun in 2009, when a family, realizing that they had extra food after eating their lunch, decided to distribute it to people living in the street. Amarelinhos, or Little Yellows, is a term of affection that was given by the homeless people to the group of 20 or so volunteers that grew out of that first lunch, all of whom wear yellow vests while volunteering.
In 2016, De Lima, because of his work performance at LATAM, was invited to participate in the Embry-Riddle Central & South America Aviation Management Program. While in the program, he took a safety program management class with Embry-Riddle Aeronautical University Assistant Professor Kristy Kiernan.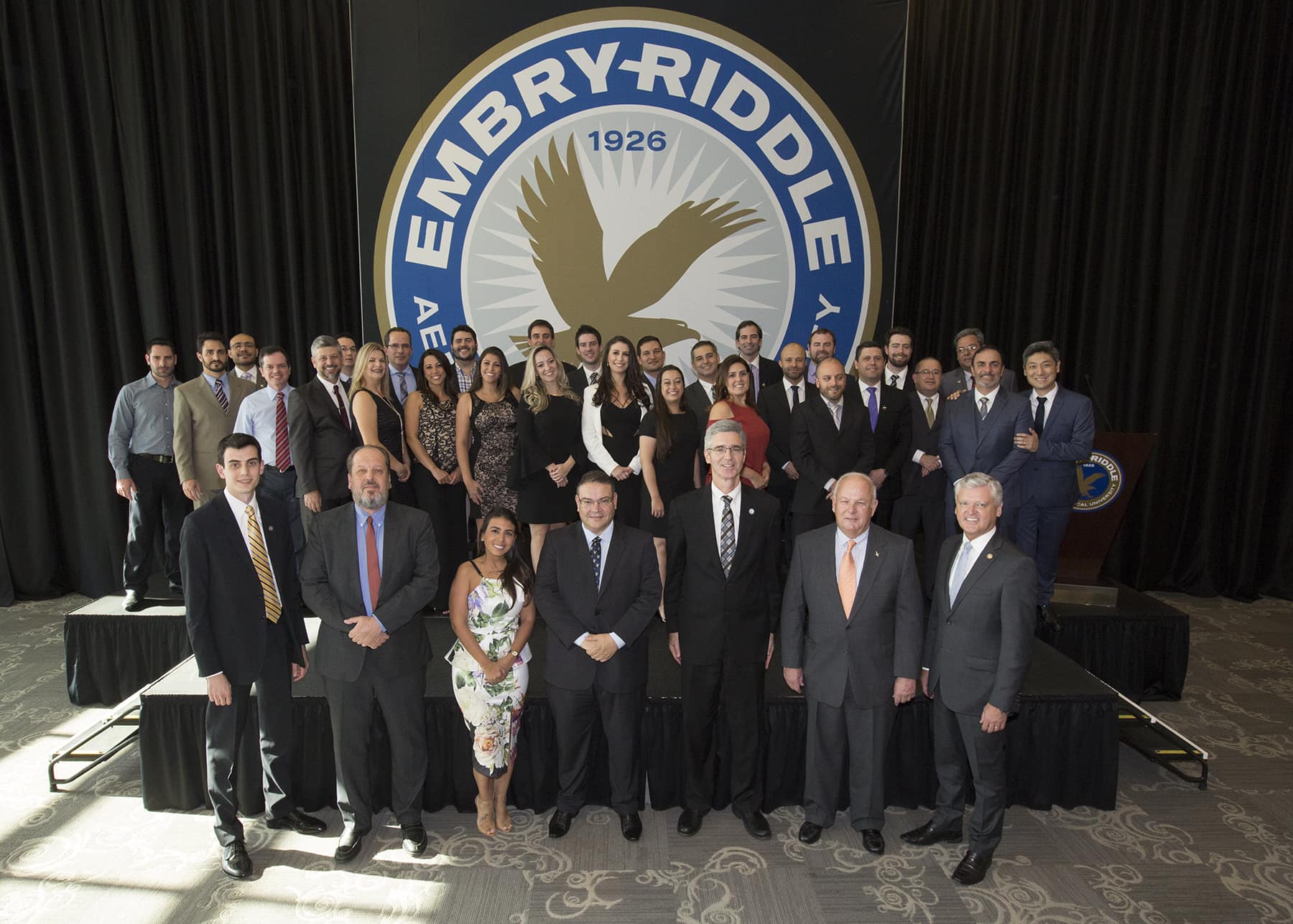 Haroldo De Lima (in the back row, at far left) graduated from the highly competitive Aviation Management Program in fall 2017.
On the first day of class, Kiernan asked each student to tell her something interesting about another student in the group. One of the students talked about De Lima's involvement with the Amarelinhos.
"I asked Haroldo more about it over lunch one day, and he told me a story about a woman who was an immigrant, very down on her luck, and she just started crying when Haroldo gave her a blanket, because she had not experienced human kindness like that in a long time," Kiernan said. "That story, and Haroldo's gentle spirit, stayed with me."
When Kiernan left São Paulo to return to the United States, she gave the Amarelinhos the rest of her Brazilian money, probably about $400, that De Lima says "helped us to buy blankets and soup to warm the winter of our street friends."
Fabio Campos, executive director of Embry-Riddle Central & South America, developed the Aviation Management Program attended by De Lima, which was designed to build up the workforce for Brazil's growing aviation industry. The program is offered by Brazil's Institute of Transportation Logistics (ITL), the Social and Educational Services of Transportation (SEST SENAT) and the National Transportation Confederation (CNT), in partnership with the Brazilian Airlines Association (ABEAR).
Referring to De Lima's devotion to giving back to the community, Campos said the former student, who now works for the Brazilian airline GOL, exemplifies what Embry-Riddle calls the "Eagle Spirit."
"We encourage our students to use the success and leadership they work toward at Embry-Riddle to help their own communities, and that is exactly what Haroldo is doing," Campos said. "We are so proud of his commitment."
Meanwhile, De Lima constantly reiterates his feeling that the homeless people he helps give him more than he gives them.
He said that one day he was dealing with a personal problem and apparently looked upset when he went out to volunteer. "One of our friends who live on the street looked at me and said, 'You're sad today. Don't be sad. Things will get better for you.' I listened to him and saw that he was really taking care of me. I felt enormous affection in that moment."
— By Michaela Jarvis